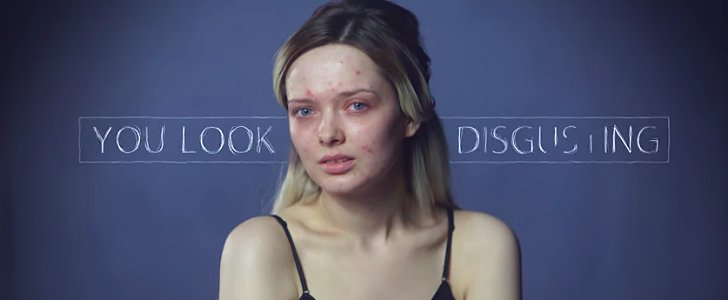 I was going through BellaNaija a few minutes ago and then I stumbled on Beauty Blogger, Em Ford. She with the use of the hashtag "#YouLookDisgusting", is fighting social media's unrealistic expectations of beauty.
She is acne-prone, just like I am, so I took special interest in her. Three months ago, she started sharing Before & After pictures of her makeup looks with her followers on social media, in a bid to help those who have acne-prone skin feel more confident.
And as you can imagine, she got over 100,000 hateful comments. Some of them were even as bad as; "WTF is wrong with her face", "You look disgusting", "I can't imagine waking up to you in the morning", "I cant even look at her", "Her face is so ugly" et al.
Ridiculous right?
But with the negativity came positivity as people going through exactly what she is going through felt so much more inspired. She created a video depicting all the hateful comments and her hashtag and video have since gone viral. The video literally moved me to tears.
When you don't wear make up, you look 'disgusting' and 'ugly'; and when you do, you're 'misleading' and 'engaging in false advertising'. How do you please such people? You'll just kill yourself trying!
It just goes to show how superficial and judgemental people are. It also proves that you can't please everyone and you shouldn't even try to. Live for yourself and yourself alone.
I posted the video below;
I hope this boosts the esteem of those of us that feel ugly cause of our acne or other things. I also hope it changes the perspective of those of us that are judgemental or are social media bullies. You don't need to spend your time, trying to destroy someone's confidence or esteem. It's highly unnecessary and mean.
Remember; Enjoy your life for yourself. Don't forget you are made in God's image; You are beautiful.
Oh yeah, in a bid to get this out to you guys, I forgot to wish you a happy new month! You guys know how I get when there's gist now! lol!
Welcome to the second half of 2015 and the month of July, you guys! I pray the good Lord grants us all of our hearts desires and much more blessings in Jesus' Name- Amen!
Enjoy the rest of your weekend!
Ciao!